Kyiv 2019
EAVE ON DEMAND session for Ukrainian producers and their writers
October 15-18, Kyiv, Ukraine

EAVE is proud to organise in co-operation with Ukrainian Film Academy and in partnership with Odesa International Film Festival supported by Ukrainian Cultural Foundation in October 15-18, 2019, in Kyiv, Ukraine for developing Ukrainian film projects and scripts.
The objective is to improve the participants' skills in international coproduction, film finance and management, marketing, packaging as well as script development, allowing them to take the next step in their careers and businesses.
EAVE ON DEMAND session will consist of 4 days of masterclasses and group work sessions, as well as individual meetings for 10 producers and their writers with their projects in development.
The experts confirmed include the EAVE group leader Diana Elbaum (Beluga Tree, BE), script consultant Clare Downs and sales and marketing consultant Aranka Matits (Featurette, NL).
The workshop will be held in English.
The fee for participation in master- classes is 500 EUR.
HOW TO APPLY
To apply, please fill in the form here: https://forms.gle/PznSiq1JWWS6yyqc6
The extended deadline is September 12, 2019.
If you have any questions, please contact : info@uafilmacademy.org. All applicants will be informed about the selection results by September 16, 2019.
MEET THE EXPERTS


Diana ELBAUM (BE) – Beluga Tree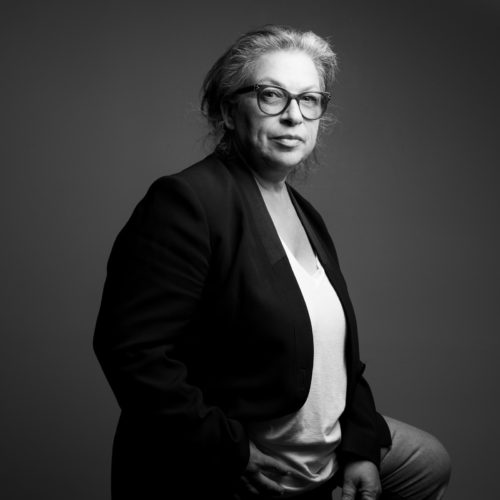 Diana moved from advertising to film production thanks to Chantal Akerman's decision to hire her as a young producer on A couch in New York in 1996, since then she has produced and coproduced over 70 feature films and documentaries. Most of them where showcased and awarded in A class festivals. Her films cover a large sample of genre and come from all horizons and cultures. She is known for her skill in working with renown talents as well as her audacity in producing emerging talents.
Diana is deeply committed to develop the International film industry and spends time tutoring at and for EAVE since 2007 (Europe, Africa, Middle East, Caribbean) and creating, in 2009, the program EP2C now renamed APost Lab. In 2017, Diana sets up Le Boost Camp, the first French speaking workshop for women directors.
Her tutoring, mentoring, and lectures made her travel the world around several time.
Diana created Entre Chien et Loup in 1989. Almost 30 years later, in 2017, she sold the company to open Beluga Tree in association with the Caviar Group as well as the sister company, Beluga Jungle, dedicated to documentaries and children content.
Throughout her career, Diana has worked with talents such as Chantal Akerman, Mahamat Saleh Haroun, Lisa Azuelos, Julie Bertucelli, Yuval Adler, Paul Verhoeven, Raoul Peck, Nabil Ben Yadir as well as Ira Sachs, Eran Kolirin, Isold Uggadottir, Peter Brossens and Jessica Woodworth.
Her latest films in development are Borough Park by Michale Boganim, Horse Boy by Ari Folman, Lingui by Mahamat Saleh Haroun (coproduction).
Diana lives in the heart of Europe, Brussels, with her two multicultural children.
Clare DOWNS (UK)
EXECUTIVE :Co-Director of the Association of Independent Producers (1978-1980). Director of International Creative Affairs for the Ladd Company/Warner Bros (1981-1983).Director of Council of Europe's FIRST FILM EUROPE (1989 -1990)
PRODUCING :THE DRESS (1985) BAFTA, Gold Plaque, Chicago. HIGH SEASON (1987) Best screenplay - San Sebastian Film Festival. Co-producer BORDERLINE (1993) Locarno. Best Director, International Film Critics Prize,Thessaloniki Film Festival.
DEVELOPMENT & TRAINING: Founder member of the Script Analysisteam of EAVE - since 1989.Joint Head of Studies of the Scottish/Irish EAVE Regional programme (1993),EAVE Greek Regional programme (1994).Script analyst of the EAVE International Programme - TIES THAT BIND - EAVE Asia, and B'EST – Baltic Bridge East and West. EAVE ON DEMAND - Tbilisi, Georgia; Durban, South Africa, Trinidad & Tobago, Palestine, Armenia, Cairo. Senior/Visiting Tutor in Script Development /Producing at the National Film and Television School, UK, (since 1996), the MA scriptwriting/producing courses at de Montfort University (since 1999), the University of the Arts, London.Joint Head of Studies of the Southern African Producer training programme, AVEA (2000- 2005).Script consultant to FOCAL funded IFA-SC, the Independent Filmmakers Association - South Caucasus Training programme (2006 – 2009).Evaluator - Malta Film Fund. Fellow of the Royal Asiatic Society. Script analyst for Jerusalem International Film Lab - since its inception 2011.
SCRIPT CONSULTING/WRITING/MASTERCLASSES: Clare has delivered numerous script-writing workshops, and Master classes in Screenwriting and in Development Strategies, internationally. She works as aconsultant, evaluator, writing reports and working on individual projects with both film funds and filmmakers throughout the world. She has rewritten several screenplays in the run up to production.
RECENT SCRIPT CONSULTATIONS: The Kindergarten Teacher (Cannes - Critics' Week 2014), Why Me? (Berlin – Panorama 2015), United States of Love (Berlin - Best Screenplay 2016), Mellow Mud (Berlin - Crystal Bear 2016), The Apprentice (Cannes - Un Certain Regard2016), The Happiest Day in the Life of Olli Maki (Cannes Winner - Un Certain Regard 2016), Interchange (Locarno 2016), Wajib (Locarno, Toronto 2017),Suleiman Mountain (Pingyao - Best Film & Audience Award 2017), The Accused (Venice, Toronto 2018), The Son (Sarajevo 2019).
Aranka MATITS (NL)
Aranka Matits, as the founder of Featurette, advises on acquisitions, coproductions and strategic planning. Current and past clients include theatrical distributors in France, the Benelux, Switzerland, Germany, the UK, Italy, Spain, Portugal or the US as well as an international sales agent, on-demand aggregators and a multinational broadcaster. Acquisitions range from Palme d'Or winner Parasite or Shoplifters to Oscarwinner/ nominee Still Alice, Una Mujer Fantástica or On Body and Soul to festival hits like The Florida Project or Toni Erdmann to breakout debuts such as God's Own Country or The Guilty. Previously, Aranka headed acquisitions for French distributor Pretty Pictures and she worked at ThinkFilm International, where she sold a diverse slate of established and new talent. She began her career working in film finance where she was involved in executive producing films by Woody Allen or Werner Herzog. Aranka trains on sales and distribution for organizations like EAVE, Doha Film Institute or IMCINE. She is a regular speaker at industry events such as Producers Network and a voting member of the European Film Academy. For almost two decades Aranka worked in London and New York, where she obtained a PhD in German Literature & Film Studies. Originally from Cologne, she now lives in Amsterdam.
Page last updated 16 January 2020